Print and Play the brand new board game Treasures In Heaven today! No waiting until it gets to store shelves, get it now!
Only $5.00
Treasures in Heaven is a cooperative board game about the fruits of the spirit for 2 to 9 players. It is helpful if players can read, but color coded cards make it possible for younger players to join the fun with the adults! Players work together to gather all the fruits of the spirit before the rains come and spoil the harvest.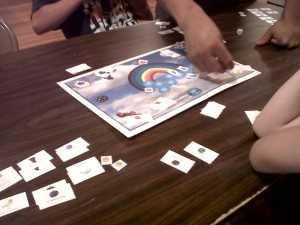 This game won an award at the 2010 CGDC annual game design competition. The rule was it had to use a chromatic scale of colors. Christian content is a bonus. Treasures in Heaven does both! What I did was match up the 9 fruits of the spirit to 9 different fruits in a rainbow of colors. After some play testing, the game is now ready for people to play! Enjoy!
—–
Treasures In Heaven F.A.Q.
Who can play?
-Anyone age 5 to 105. Reading helps but if there is at least one person at the table who can read, everyone can play. Small parts not suitable for children 3 and younger.
How many players?
-2 to 9 players
What style of game is it?
-Cooperative, meaning everyone at the table wins together, or else everyone loses together.
How long does it take to play?
-About 1 hour start to finish.
Does the game really have everything I need to play in the print kit?
-Everything except one 6 sided die which you will need to provide. And scissors of course to cut out the playing pieces.
I want to play it at a mixed gathering. Is it a really preachy Christian game?
-Not at all. Optional verses are provided which can be printed on the back of the cards for entertainment purposes, but otherwise it really doesn't preach at all. Just play and have fun!