Chariots is a racing game for the PC set on the island of Cyprus in the ancient Roman empire.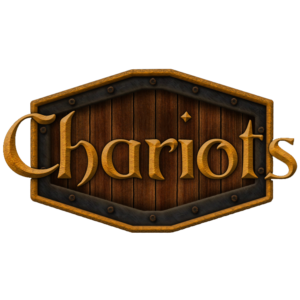 In the racing game Chariots you can:
* Explore 13 Ancient cities on the Island of Cyprus
* Race in Foot races, Horse races, and of course Chariot races
* Experience a variety of races: cross-country marathons, labyrinths, and legendary hippodromes
* Get the best gear! Complete 6 Collection Quests for special prizes!
* Win Races to earn new horses and chariots, a different one in every city!
* Race by yourself, or compete against friends in multi-player mode.
* Great fun for everyone!  Exploration.  Horse breeds.  Challenges.
*Easy, Medium and Hard races.
Minimum System Requirements
Windows Xp Recommended – Vista work around
Processor – 2 Ghz
RAM: 2 gigs
400mb Hard Drive Space
DirectX 9c, April 2007 or newer required
Graphics Card Support Pixel Shader Technology
* * nVidia GeForce 6 Series
* * nVidia GeForce 7 Series
* * ATI Radeon X1K series
* * Intel Graphics Media Accelerator 3000 (Intel® GMA 3000)
Network Hardware for Multiplayer Gaming
Microsoft .NET 3.5
Heaven's Blessings Tiny Zoo, LLC. is the creator and owner of Chariots and the Chariots logo. We are the developers of the Chariots game. Chariots was developed by an entirely volunteer team. Thank you for your support!